2020 Edouard Delaunay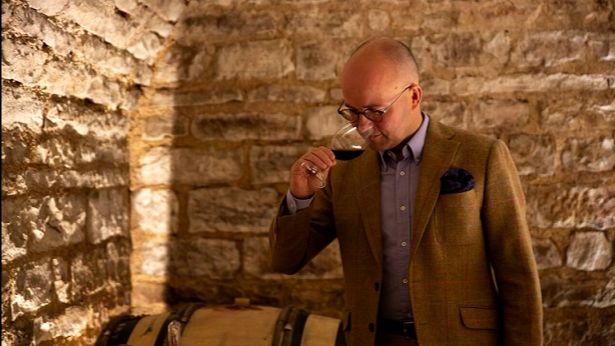 Today we are excited to feature the highly rated wines from Edouard Delaunay, just scored by Jasper Morris MW.

Founded in 1893, Delaunay is back in the ownership of fifth-generation Laurent Delaunay. The original négociant business, established by his great-great-grandfather Edouard, was one of the most prestigious names in Burgundy. They were the distributors of Domaine de la Romanée-Conti and exclusive for La Romanée until the 1940s. Laurent purchased the business back from Jean Claude Boisset in 2017 which included the cellars next to their family home, Château de Charmont, in the Hautes-Côtes de Beaune.

Edouard Delaunay has produced another stunning 2020 vintage showing wonderful purity and complexity across the range. From the powerful and 'chiselled' Meursault Les Charmes 1er Cru and the 'refined and persistent' Corton-Charlemagne Grand Cru to the 'very well balanced' Nuits-Saint-Georges – which showed brilliantly at our tasting – and the 'rich' yet refined Echezeaux Grand Cru, this is a superb range of wines.

The quality of the 2020s is a tribute both to Laurent's attention to detail and his talented winemaker Christophe Briottet who feels this vintage will retain 'an eternal youth'. Quantities are limited, so please contact us as soon as possible to discuss your allocation.

These wines are offered en primeur subject to availability. Shipment in the Autumn of 2022.
Purchase In Bond (ex duty & VAT)
2020 Meursault 1er Cru Les Charmes
£410 per 6 bottle case in bond
'Clear mid lemon yellow. A little barrel coconut but the fruit pushes through this, quite impressively. This is burly, perhaps a mite powerful but I think it will come together, remembering that it has just been bottled. A fine chiselled finish. Power and length' 94 points, Jasper Morris
2020 Puligny-Montrachet 1er Cru Les Referts
£455 per 6 bottle case in bond
'Pale lemon colour. The bouquet is less powerful than the Meursault Charmes, its neighbour. Skilfully managed oak, good weight through the middle, softer and rounder than the Charmes, with good length' 92 points, Jasper Morris
2020 Corton-Charlemagne Grand Cru
£795 per 6 bottle case in bond
'En Charlemagne. Mid lemon colour. The nose is subdued behind the recent bottling. Then more succulent notes emerge and a dusting of coconut. No stones as yet. Really fine intensity here though, and a mineral thread. Not the most massive , but it is refined and persistent' 95 points, Jasper Morris
2020 Nuits-Saint-Georges Vieilles Vignes
£195 per 6 bottle case in bond
'Mostly from Les Longecourts, just south of the town. There is also one barrel of 1er cru included. Medium purple, with a pleasingly fresh bouquet, not cooked at all. Very well balanced, light on its feet but recognisably Nuits-St-Georges' 90-92 points, Jasper Morris
2020 Clos-de-Vougeot Grand Cru
£865 per 6 bottle case in bond
'Mainly from Petit Maupertuis. With some whole bunches (30%), which is rare for them this year as Christophe Briottet thought the stems were not fully ripe. Powerful black, purple, Juicy cherries and plums, still in balance. A big rich weight on the palate but there are some fresher red fruit notes which come up behind. 80% new wood but this shows less than in many others, a tribute to the concentration of the fruit' 94-96 points, Jasper Morris
2020 Charmes-Chambertin Grand Cru
£920 per 6 bottle case in bond
'From both Charmes- and Mazoyères-Chambertin, with more the former. Heady deep purple with a bouquet to match. Sweet voluptuous fruit, on the darker side, with a weight of fruit and a little bit of heat at the finish. Not quite so well balanced as the Clos Vougeot' 92-95 points, Jasper Morris
2020 Echezeaux Grand Cru
£1050 per 6 bottle case in bond
'From Les Rouges du bas, in barrel. 25% whole bunches. Fine rich ripe pinot but has kept its balance. There is a sweetness to the fruit and an elegance, the oak speaking perhaps quite loudly at the moment but it doesn't dry out the wine and there is a racking to come. Significant finesse and persistence' 93-96 points, Jasper Morris
Enquire About Availability
To enquire about purchasing, please fill in the Enquiry Form below, contact James Ceppi di Lecco
([email protected]), or call our office at +44 (0) 20 7232 5450