Bodegas Frontonio: Single Parcel Wines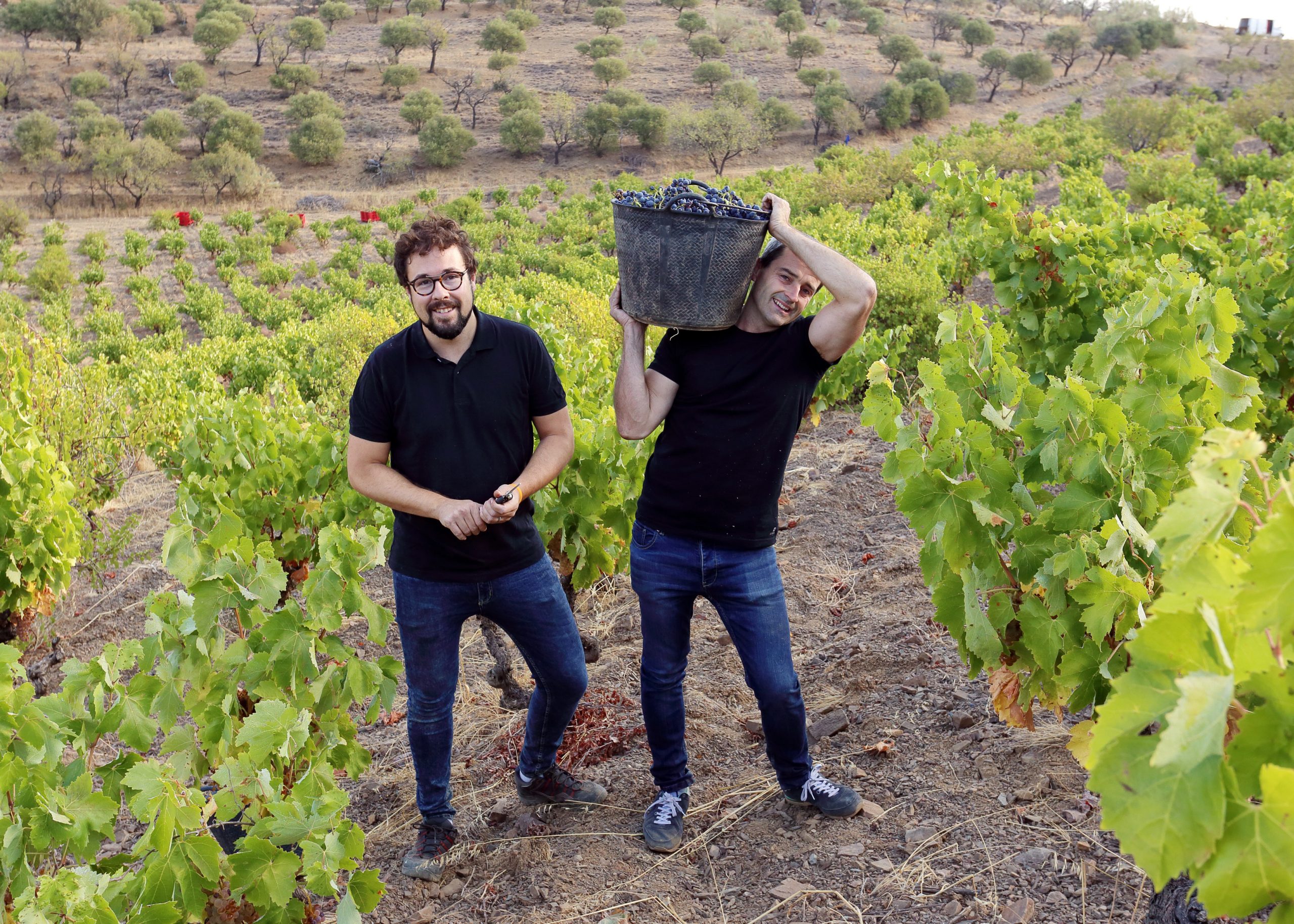 2018 could be the finest vintage in recent times... better than any wines they
have produced before, right at the top of the hierarchy in Aragón
Luis Guiterrez, The Wine Advocate
We are delighted to offer you three 'Grand Cru' single vineyards wines from rising star Bodegas Frontonio, an exciting new addition to our portfolio – La Cerqueta, El Jardín de las Iguales Macabeo and El Jardín de las Iguales Garnacha. Beautifully hand crafted and elegant, they are a wonderful expression of a unique terroir in one of the remotest vineyards in Spain.

A project of three friends, Fernando Mora MW, oenologist Mario López and lawyer Francisco Latasa from Zaragoza, Bodegas Frontonio is one of the most innovative wine ventures in Spain today. The winery is named after Saint Frontonio, the Patron Saint of the village. According to legend, Frontonio was beheaded by the Romans, his head found upstream after it had been thrown into the Ebro. Going against the current is at the heart of this project, hence the name Frontonio.

Valdejalón is located at the centre of a triangle formed by the Campo de Borja, Cariñena and Calatayud appellations, around the Jalón river. The wines are sold under the 'vino de la tierra' designation and are still relatively unknown, waiting to be discovered. Frontonio is leading the way here in terms of old vines and Garnacha's renaissance. The wines are 'right at the top of the hierarchy' in the region says Luis Guiterrez.
Purchase In Bond (ex duty & VAT)
2018 La Cerqueta Garnacha, Bodegas Frontonio | £184 per 6 bottle case in bond
'This was their original top red until they started producing the single-vineyard El Jardín de las Iguales, which has had different names through the years, being mostly eponymous, but in 2016, they began adding the name of the vineyard where the grape are grown. The current release is the 2018 La Cerqueta, a pure Garnacha from a 1.18-hectare dry-farmed, head-pruned, 75-year-old vineyard at 630 meters in altitude on slate-rich soils and facing southeast. It fermented with indigenous yeasts and some 60% full clusters that were foot trodden in open-top barrels and then macerated for 47 days. The wine matured in an underground cellar in an oak foudre for 14 months. This wine and Las Alas probably show the evolution in style and the search of finesse and expression of the places better than any others. It's fresh, floral and complete, a little spicy and with lots of energy, inner strength and balance with freshness. It's clean and delicious. This is very close to La Tejera, but the two vineyards have different expressions, a little more powerful here, a little more ethereal in the case of La Tejera. 3,056 bottles were filled in February 2020 – Drink 2020-2026' 94 points, Luis Gutiérrez
2017 El Jardín de las Iguales Macabeo, Bodegas Frontonio | £694 per 6 bottle case in bond
*Only 631 bottles were filled in February 2019*
'The top white, the same as the top red, comes from a magnificent vineyard planed in the 1890s. The 2017 El Jardín de las Iguales Macabeo is the second vintage for this wine, from a year that was dry and warm and resulted in an early harvest. The vines are quite tall, as they have been pruned like that, and normally have three arms; they are planted on a northwest-facing slope rich in slate at around 700 meters in altitude and give very low yields, which means concentration and freshness. It fermented in a 1,100-liter oak foudre with indigenous yeasts, where it was kept with lees and later transferred to used 500-liter oak barrels. It has a very Burgundian nose, somehow closer to the 2018 La Loma & Los Santos (a blend of Garnacha Blanca and Macabeo) than the 2018 vintage of El Jardín de las Iguales Macabeo. There are lots of flowers and pollen, spices and a touch of smoke. The palate is seamless, compact, with power and length, still a little marked by the élevage. It should improve with some more time in bottle – Drink 2021-2027' 95 points, Luis Gutiérrez
2018 El Jardín de las Iguales Garnacha, Bodegas Frontonio | £874 per 6 bottle case in bond
*Only 584 bottles were filled in February 2020*
'The top red 2018 El Jardín de las Iguales Garnacha comes from a rare old vineyard, a north-facing slope with slate soils planted with Garnacha, but there's also some white grapes (Macabeo), fermented with indigenous yeasts in 1,000-liter oak vats with 100% full clusters and a long maceration of 78 days. It matured in well-seasoned, neutral oak barrels. It's pale and translucent, extremely aromatic, very floral, with an exuberant touch that made me think of the best Pinot Noir from Chile (Las Pizarras, Talinay Pai, Ocio…), crunchy and tasty, floral. It's medium-bodied, has refined tannins and a velvety texture, with elegance and length, tasty, almost salty. This is an incredibly elegant Garnacha, completely different from all their other wines – Drink 2021-2028'. 96 points, Luis Gutiérrez
Enquire About Availability
To enquire about purchasing, please fill in the Enquiry Form below, contact James Ceppi di Lecco
([email protected]), or call our office at +44 (0) 20 7232 5450