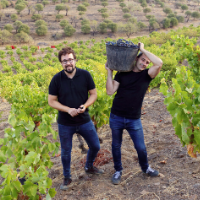 Frontonio is the passion project of three friends; Fernando Mora MW, oenologist Mario López and international business lawyer Francisco Latasa from Zaragoza. The winery is named after Saint Frontonio, the Patron Saint of the village. According to legend, Frontonio was beheaded by the Romans, his head found upstream after it had been thrown into the Ebro. Going against the current is at the heart of this project, hence the name Frontonio.

Lacking a DO status, Valdejalón is arguably the least well-known wine region in Aragón. Located at the centre of a triangle formed by Campo de Borja, Cariñena and Calatayud appellations, it comprises the area around the river Jalón. The wines are sold under the `vino de la tierra` designation, the equivalent to the new European PGI.

Frontonio has emerged as one of the most refreshing wine ventures in Aragón, both in terms of recovering old vines and driving Garnacha`s renaissance in the area. The vineyards are found at over 400 meters high near Épila, on the left bank of the river Jalón, where clay-limestone soils prevail. The Premier and Grand Crus are further west, planted at 600-1000 meters on red slate soils and limestone. The founders also expertly purchase in fruit from local growers.