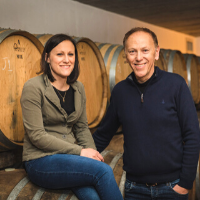 'The first Italian town to greet the river Isonzo as it meanders its way out of Slovenia is Gorizia, historically Europe's most contended border settlement. Flowing south, the river crosses enchanting countryside dotted with tiny villages nestling around their bell towers and vineyards where the spirit of the place beats time with the rhythms of daily life. It is here that, since 1879, five generations of my family have worked passionately to help create and develop one of Friuli's most representative wine estates.' - Alvaro Pecorari

Practically equidistant between the Slovenian border and the Isonzo river sits Lis Neris, a 70-hectare estate just outside of San Lorenzo in Friuli. The Pecorari family has been at the helm since 1987 and run by Alvaro Pecorari since the early 1980s. He has spent the last few decades working tirelessly to increase the quality of their offering. That hard work has certainly paid off. Focused very much on the international varieties, Alvaro cares for plantings of Pinot Grigio, Chardonnay, Cabernet Sauvignon and Merlot, all planted on calcareous gravel (locally called `claps`) on a small plateau. The soil and location are integral to storing warmth during the day to ensure the grapes achieve full ripeness. Sustainable practices remain at the core and, while Alvaro says modern day technology cannot be disregarded, he applies traditional methods in the vineyard. Hand harvesting and pruning, no use of weed killers and a reduction of sprays all help to ensure the best quality of fruit.

The range at Le Neris can be divided into three. Firstly, the single-variety wines for which the typicity of grape variety, such as Pinot Grigio, Sauvignon Blanc and Chardonnay. The fruit from older vines are destined for the production of the more complex ageworthy wines. These wines show great minerality, elegance and structure. Lastly, Alvaro blends the varieties of his best sites for bottling for some of this best wines, such as Confino. These wines embody the unique terroir.

There is no question that Alvaro has been integral to establishing the region as one which produces quality wines, wines with personality.