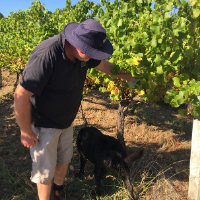 We have worked with Michael Kerrigan for more than 25 years, and we are continually impressed with his talent and capacity for reinvention. Former winemaker at Howard Park and Madfish, Michael struck out on his own when his dream vineyards in the key quality region of Wilyabrup came up for sale. With more than 30 years of winemaking under his belt, and 12 years going solo with Hay Shed Hill, this man is one of the most experienced, respected and revered winemakers in Australia - and rightly so. He is also a strong purveyor of classically blunt Aussie pearls of wisdom. "It`s all in the detail - you quite simply visit the vineyard every day. I`m not interested in being epic, I just want to make wine I like to drink".

He likens Margaret River`s climate to "Bordeaux in a perfect year", and attributes the region`s success to its maritime climate, meaning a low diurnal range, very important in a country that is known for its extremes in temperature, and pretty much everything else! Michael produces wines under two labels - the entry level `Pitchfork` range and the estate, single vineyard `Hay Shed Hill` wines. The Pitchfork range represents unprecedentedly good value considering that all of the grapes are grown in Margaret River - very unusual for a wine at the entry level from this region, and yet another example of Michael`s commitment to quality over all else. There are four lip-smackingly good, everyday wines in this range.

Everything under the Hay Shed Hill label is single-vineyard, which Michael explains. "I make single vineyard and single block wines because they express a particular character - otherwise what`s the point?" All of the vines are dry farmed and made from free run juice only. The vineyards are around 20 years old and they are all farmed organically, but without certification. The Chardonnay sees 25% new oak and represents the `modern Australian Chardonnay`, in the words of its maker. Fun fact. There is a higher annual rainfall in Margaret River than in London!