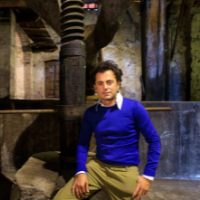 As is the creation story for so many modern day wineries, the one of Graci begins when Alberto Aiello Graci decided that banking was not the career he was meant for. He left Milan and went back to his family's small winery in 2004. Situated on the North slope of Mount Etna at Passopisciaro, Alberto carefully farms several hectares of 50-year-old vines at altitudes of up to 1000 meters above sea level. The high altitude is key to concentrated, elegant wines in an otherwise Mediterranean climate.

Alberto is steadfast in only growing indigenous grapes - Nerello Mascalese, Carricante and Catarratto - and does so with the greatest attention to sustainability and tradition. The bush vines are trained in the ancient 'alberello' system, a farming method with a long history in Sicily. Cultivation of vineyards is certified organic, with careful selections and search for full maturity, limiting the yields in the vineyard to a minimum. The work in the winery is no less vigorous, and Alberto says he is in constant search of precision and finesse.

Vinification and aging take place in concrete tanks and large 42hl Stockinger barrels produced with very long seasoned wood. All the work is aimed at favouring the personality of the vines and holding close to the belief in natural expression of the fruit.