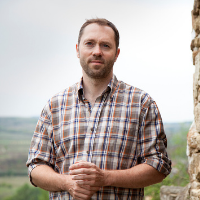 Weingut Weszeli is located in Langenlois, a now-famous wine village located on the river Kamp where it wends its way down to the Danube at Krems. There is a crazy patchwork of Burgundy-like Cru vineyards which have helped put Austria on the map as a source of world-class whites. The story of this winery echoes that of many others. A former city-slicker, Davis Weszeli struck out in search of something new, with one clear goal. to feel closer to nature. He discovered his calling in the form of a traditional Kamptal winery in 2011, and from then on he has been on a mission to create authentic, unique wines whilst always prioritising sustainability in organic viticulture, and a principle coined by Davis himself. Terrafactum, the importance of the unique nature of the earth and terroir of Kamptal.

Davis makes charming and impressive Grüner Veltliner and Riesling, the two grapes he feels best suit the climate and soils of Kamptal. There are three levels of Grüner Veltliner, offering a fascinating journey into a grape oft-overlooked for its more famous stablemate, Riesling. The Grüner Veltliner `Felix` introduces us to the grape in its simplest, most charming form. `Austria in a glass`. Next, in the `Terrace` range - the equivalent to a villages level wine - is Grüner Veltliner Langenlois, named for the winery`s home village, where the vineyard parcels for this wine are located. Its equivalent in the Terrace range - Riesling Loiserberg - is from a single vineyard site, the most Northern, highest and coolest on gneiss soil. The wine is bone dry, squeaky clean and tongue-tingling wine, carrying all of the trademark qualities that make this grape so revered worldwide. From the 2017 vintage onwards this vineyard will be Premier Cru and will carry this classification on the label. Finally, from the `Terroir` range at the top of the scale, is single vineyard Grüner Veltliner Käferberg ÖTW, a Premier Cru site that is undoubtedly destined to be promoted to Grand Cru once the classification is finalised. Just one taste of this wine is a mind-blowing example of what this grape is truly capable of in the right hands.

All of the wines are attractively labelled with an illustration of a local animal or insect, reflecting the estate`s dedication to working harmoniously alongside nature, and providing natural shelter for the endangered and more elusive creatures of the area. In turn, they all do their bit to protect the grapes, whether through natural fertilisation, biodiversification of the soil, pollenation or pest control.
For availability, please contact the Customer Service Team at orders@bancroftwines.com or +44 (0)20 7232 5450