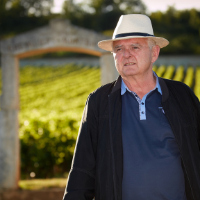 Valentin Leflaive Champagne reflects a life-long ambition of Burgundy`s Olivier Leflaive and his family to produce an exceptional sparkling wine. Named after Olivier's son, it brings together the expertise and traditions of Burgundy and Champagne and offers a unique interpretation of this region's grape varieties and terroirs.

Launched in 2015, Valentin Leflaive was granted the status of 'négociant-manipulant' in 2020 enabling the company to manage the whole production chain including the purchase of grapes. A boutique winery was opened in Oger with a traditional ageing cellar dug deep into the chalk. Chef de Caves Christophe Pitois, who looks after the important relationship with the growers, is assisted by talented enologist Clément Galois. Both are from the Champagne region.

The range consists of an Extra-Brut Blanc de Blancs and a Brut Rosé as well as three Grand Crus. two Blanc de Blancs from the prestigious Grands Crus of Avize and Mesnil-sur-Oger and one Blanc de Noirs from the highly sought-after Grand Cru of Verzenay. Offering a fresh and innovative approach, each cuvée has a unique code on the label with the letters referring to the terroir while the numbers indicate the year of the base wine and the dosage (e.g. in Extra Brut Blanc de Blancs CA 15 40, 'CA' means Cramant and Avize, '15' is the year the base wine was blended while '40' refers to 4.0 g of sugar per litre).
For availability, please contact the Customer Service Team at orders@bancroftwines.com or +44 (0)20 7232 5450