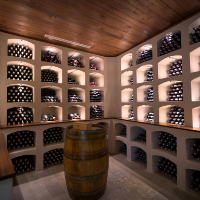 Now owned by the brothers Tommaso and Federico Marrocchesi Marzi, Bibbiano is one of the oldest estates in the Chianti Classico belonging to the same family. Since 1865, the entrepreneurial spirit and tradition has been handed down from father to son. Their philosophy is based on responsibility and consistency; `Responsibility for what we do for the earth, for the area and for the unique wines; consistency in following one`s vocation, respecting the nature of the territory and family traditions.`

Surrounded by vast olive groves of more than three thousand plants, the estate itself spans over 220 hectares. The vineyards of Bibbiano extend over a total area of about 30 hectares between 270 and 310 metres above sea level, set on hill slopes that enjoy an enviable exposure and an excellent microclimate, characterised by clay deposits of the Pliocene age that are rich in limestone. As one would expect, Sangiovese is the primary varietal planted, but the brothers also have holdings of Canaiolo, Malvasia Nera, Colorino, Ciliegiolo as well as small amounts of white varieties, Trebbiano, Grechetto and Malvasia di Chianti.

It was in 1942 that wine legend Giulio Gambelli arrived at Bibbiano, advising on everything from clonal selection to canopy management. Giulio remained integral to the winery`s restructuring in the following decades. In 1969 the first vinification took place, the first vintage the following year. In 2001, Giulio recruited Stefano Porcinai to take the helm at Bibbiano, as Stefano had been learning from Giulio for some time. Giulio`s passing in 2012 was a true loss to the region - and the winemaking community across the world - yet the wines at Bibbiano remain a constant reminder of his philosophy and his skill. These are terrior driven, classically structured wines, with such grace and charm.
For availability, please contact the Customer Service Team at orders@bancroftwines.com or +44 (0)20 7232 5450