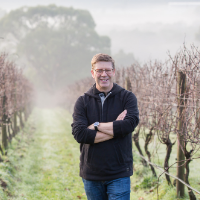 Ten Minutes by Tractor started in 1997 with three vineyards in Main Ridge, all ten minutes by tractor apart. Over the past 18 years, Martin and Karen Spedding have added four more vineyards that have a diverse range of microclimates from across the Mornington Peninsula. Each of these vineyard sites feature different aspects, slopes, soils, altitude and influence from the cool maritime breezes that wind their way through the valleys.

This terroir and sense of place, explains everything about their wines. Cool places. Beautiful places. Places that are defined by the wines they make and which can seem like worlds apart. the refinement and vibrant acidity of Wallis; the elegance and poise of McCutcheon; the alluring aromatics and fine structure of Judd; the power and fruit purity of Coolart Road.

Each vineyard is intimately linked to their place. These little differences; in soil, slope, aspects and all the other things that make their vineyards distinct mean that while they may be ten minutes by tractor from each other, they are a world apart.
For availability, please contact the Customer Service Team at orders@bancroftwines.com or +44 (0)20 7232 5450