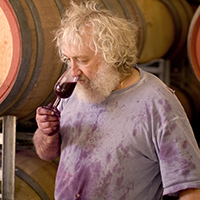 A family-owned and operated winery located in the heart of the Clare Valley in South Australia, Skillogalee is known for the exceptional quality of their red and white wines, and is widely recognised as one of Clare Valley's top estates. They also lead the way in responsible farming, having practiced sustainable methodologies in the vineyard and the winery for many years.

The original Skillogalee vineyards were planted in the early 1970's on stony soils and steep, eastern facing slopes at almost 500 metres above sea level. The first wines were released in 1976 and quickly gained acclaim. the 1978 Dry Riesling won major trophies at the Adelaide Wine Show and the National Wine Show, putting Skillogalee firmly on the Australian winemaking map.

Aware of the exceptional quality of the vineyards and their potential to produce world-class wines, current owners David and Diana Palmer acquired the property in 1989. In 2002 they purchased next-door neighbour Waninga Vineyards, with 30 hectares of 30-year-old vines, bringing the size of the estate to 60 hectares. While production increased, the Palmers have taken great care to maintain the quality and characteristic style of the wines.

Deciding to avoid the bureaucracy of organic or biodynamic certification does not stop a producer from holding soil health and sustainability as a top priority, and this is the case at Skillogalee. Every effort is taken to ensure the best quality grapes are harvested each year, the vines are hand-pruned and the fruit is mainly hand-picked, with yields kept extremely low. All wines are produced exclusively from estate-owned vineyards.
For availability, please contact the Customer Service Team at orders@bancroftwines.com or +44 (0)20 7232 5450