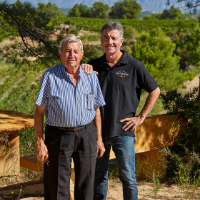 The Sabaté í Coca family has a long history of growing grapes, dating back to 1855, and is run by fourth generation winegrowers, Marcel and Josep Sabaté. The estate is located in Bitlles Valley in the Penedès region and focuses on producing excellent sparkling wines as part of the Corpinnat group. Corpinnat is a break-away group of producers who, a few years ago, decided to leave the Cava DO and focus on producing high quality, traditional method sparkling wines from terroir-specific sites within the heart of the Penedès region, and indigenous varieties, including the pink skinned Xarel?lo Vermell.

Sabaté í Coca have 40 hectares of organically farmed vineyards from 18 different terroirs and 66 micro plots, all of which are fermented separately. Marcel Sabaté undertook a very detailed soil survey in order to identify these 18 distinct soil types and seeks to express their personality through the wines. The focus is the traditional trio of 'Cava' varieties, Xarel?lo, Macabeo and Parellada, as well as a small selection of others.

There are two ranges of wines. Sabaté í Coca is the premium range and here the wines come from single plots and sometimes single varieties, and spend longer time on lees. The Castellroig brand incorporates blends of different sites and terroirs.