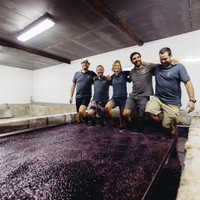 Situated above the Pinhão River, in Soutelinho-Favaios near Alijó in the highest part of the Cima Corgo sub region of the Douro, sits Quinta da Pedra Alta winery. Two of the real strengths of the site are the variety of vineyard altitudes - from 230m to 550m - and the breadth of indigenous varieties planted across the 35-hectare estate. This allows the Pedra Alta team to produce a fantastic range of styles from fresh elegant whites, to richer Douro reds, as well as Ports, which includes an exciting modern interpretation of White Port, and a 10-year-old Tawny.

The vineyards have a long history dating back to at least the late 18th-century and, although the area has always produced high quality fruit for ports, it was only when purchased in July 2018 that the future of the estate began to strengthen. The intention now is working with esteemed winemaker João Pires to realise the full potential of this incredible piece of land. Investment in the vineyard and winery has been instrumental to his craft. It has driven a number of positive changes including grafting and replanting with an increased focus on quality over yield; barrel investment allowing the team to work with smaller, more selected fruit parcels and blending components; and the addition of temperature control in the winery and storage.

João manages the estate with a sustainable approach with minimal, timely interventionism in the vineyard - using minimal fertilisers and sprays and thinning when required. His depth of knowledge in the land and qualities of the different parcels has created wines with focus and approachability, whilst ensuring they retain their individuality and provenance.
For availability, please contact the Customer Service Team at orders@bancroftwines.com or +44 (0)20 7232 5450