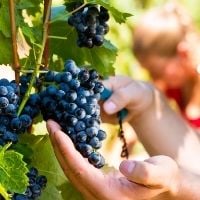 This 200 hectare estate has belonged to the Guicciardini family since 1870. Now run by the charismatic Pietro Majnoni, it holds about 30 hectares planted with 8 different grape varieties (mostly Sangiovese), along with olive groves and beautiful woodland. The vineyards are the true beating heart of this estate and although the occupy less that 15% of the land, they account for over two thirds of their working hours.

Having converted to organic methods in 2001, they have refined diversification and rotation of their crops. In addition to growing durum wheat, spelt, kamut, linseed, chick peas and lentils to satisfy local demand, they sell oats and barley to other organic wine growers which in turn sow them between rows to increase organic matter to the soil. Each vineyard plot is fermented separately and matured in the estate`s ancient cellars. In addition to their plantings of various Sangiovese clones, Pietro had planted complimentary varieties including Colorino, Malvasia Nera, Foglia Tonda, Abrustine and Pugnitello to provide blending ) to have a wider choice when creating our wines.

The wines are fermented and matured in the Estate`s ancient cellars. Vinification is separated for each variety and vineyard Pietro uses a short steeping for the reds. A longer marceration takes place to ensure colour and polyphenols is extracted for the Chianti and Chianti Riserva, which is only made in the best years. These wines will spend time in large French oak barriques to aid development of flavours and texture. With so much overripe and over-extracted Chianti on the market, we are very happy to have found wines that are authentic expressions of traditional Chianti. rustic and charming with balanced fruit and great drinkability.
For availability, please contact the Customer Service Team at orders@bancroftwines.com or +44 (0)20 7232 5450