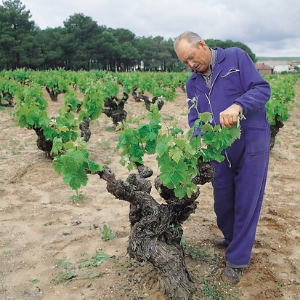 In 1980, the three Pérez Pascuas brothers Benjamín, Manuel and Adolfo, decided to embark on an ambitious project. to make one of the best wines in Spain. Two years later they formed part of the small group of wineries that founded the D.O. Ribera del Duero. The brothers were fortunate to already have 60-year-old Tempranillo vines that had been planted by their father Mauro Pérez. Today the third generation of Pérez Pascuas brothers are involved in this well-established family business.

The winery is situated on top of the hill just outside the village of Pedrosa del Duero, with panoramic views over the surrounding vineyards and countryside. This position at altitude is responsible for their overall micro-climate being cooler, with a considerable diurnal temperature differential. This makes for a lengthier growing season with the grapes hanging longer on the vine for slow ripening, meaning their harvest is often completed weeks after surrounding, lower lying vineyards.

The wines are judiciously matured in French oak casks to produce serious, multi-layered wines of great elegance and finesse. The Cepa Gavilán and Crianza offer medium to full-bodied, complex wines with flavours of chocolate, coffee and black olive tapenade, firm tannins and great life. The Cepa Gavilán is perfect as a lunch time red. The Reserva wines are made from 90% Tempranillo vines (which have an average age of 30 and 45 years respectively) and 10% Cabernet Sauvignon.
For availability, please contact the Customer Service Team at orders@bancroftwines.com or +44 (0)20 7232 5450