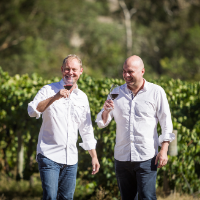 Heartland Wines is a joint venture from industry veterans and lifelong mates Ben Glaetzer (of Glaetzer Wines fame) and Nick Keukenmeester in Langhorne Creek, South Australia. From its inception in 1999, Heartland's ethos has been to create wines of balance, texture and a distinctive Australian identity, with a focus on Cabernet Sauvignon and Shiraz.

Langhorne Creek's exceptional terroir is the soul of Heartland. One of Australia's oldest viticultural regions, the area is unique in South Australia due to its cool maritime climate and significant diurnal range. The resulting long growing season, along with ancient alluvial soils, makes it particularly suited to Cabernet Sauvignon. Many local growers have been cultivating the variety for generations, which explains the prevalence of old vines; Langhorne Creek boasts the oldest Cabernet Sauvignon vines in the world.

In addition to purchasing old-vine Cabernet Sauvignon and Shiraz from the region's top growers, Heartland has also experimented successfully with plantings of Dolcetto and Lagrein, which make up a few of their unique blends. Sustainability is the cornerstone of Heartland's approach to viticulture. they encourage plantings of indigenous trees, grasses and bushes, practice rational water management, and eschew chemical treatments in the vineyards. They even have a herd of goats to keep the weeds down.

Heartland's wines are made at Ben Glaetzer's Barossa Vintners winery in Tanunda, Barossa. Completed in 1995, Barossa Vintners is a purpose-built, pioneering solar-powered and gravity-fed winery. Here Ben Glaetzer takes his characteristic minimum-intervention approach, with gentle handling and long, cool fermentations to guarantee freshness, elegance and drinkability in the wines.

The Stickleback Red is a blend of 74% Cabernet Sauvignon, 24% Shiraz and 2% Lagrein. It is rich and savoury with good structure and is a great food match. The Spice Trader is 52% Shiraz and 48% Cabernet Sauvignon. It is medium-bodied with dark fruit notes and spicy undertones. Sposa e Sposa is a unique blend of 54% Lagrein and 46% Dolcetto. This wine celebrates the marriage of Italian grapes grown in Langhorn Creek and boasts ripe tannins and a bright acidity. Finally, the Directors' Cut Shiraz is produced from the finest vineyards and is Ben Glaetzer's most powerful expression of Langhorne Creek. The whole range truly reflects the terroir of the region and demonstrates the stylistic differences that can be achieved in this beautiful area of Australia.