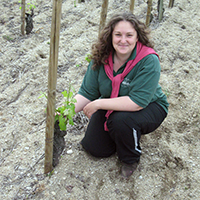 There are undeniable similarities between Pierre Gaillard and Winston Churchill. a phenomenal work ethic, a tireless energy and vision that has made him one of the true pioneers of his region. At the age of 12 he was caught red-handed ploughing a neighbouring parcel with a horse, and thus Pierre launched his stellar winemaking career in style. He is an avid believer in producing ripe, perfectly healthy grapes from the land, and you will often find him pruning and caressing his grapes in the vineyard. In 2002 he invested in a state-of- the-art winery that would not look out of place in Bordeaux, with a modern barrel room to age his red wines. His dedication to quality pays dividends and his wines all demonstrate amazing elegance and freshness combined with power and concentration. They are terroir-driven and pure with vibrant, opulent fruit and can be credited with frequently raising the bar in the Northern Rhône.

The two Vin de Pays wines listed here are made further South by his eldest daughter, Jeanne, who caught the winemaking bug after misbehaving as a child and marking her punishment with work in the vineyard. Luckily this rocky start worked in her favour and these wines now form a seamless segue into her father`s AOP range. Pierre owns 2.5 hectares of Condrieu, located in Chéry, Côte Bellay, Gonon and Boissey where the soils are mostly granitic; the wine is aged in a small proportion of new oak for seven months during which he stirs the lees once a week.

Fruit for the Saint-Joseph comes from parcels all over the family`s estate, along with a proportion that is sourced from other local growers, with the purpose of making a wine to truly embody the spirit of Saint-Joseph. Conversely, the Saint-Joseph Clos de Cuminaille puts a magnifying glass on a specific hillside terroir of the same name, to demonstrate its unique quality potential. For his Côte-Rôtie, in which he was taught his art by Marcel Guigal during the early 1980`s, the vines are located on more schist-heavy soils, and he tends to use between 10% and 15% Viognier. He ages his wines in 30% and 50% new oak casks for up to 20 months. His special cuvée, Côte-Rôtie `Rose Pourpre` is sourced from Syrah vines in Côte Rozier and undergoes a similar ageing but using 100% new oak.
For availability, please contact the Customer Service Team at orders@bancroftwines.com or +44 (0)20 7232 5450