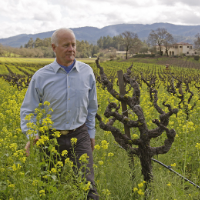 Chateau Montelena shot to fame in 1976 at the iconic Judgement of Paris which shook the wine world to its core when their 1973 Napa Valley Chardonnay won first place against an enviable line-up of top French Burgundies. The result was a shock to the wine trade all over the world and it changed the history of Californian wine and Chateau Montelena forever. They have been making top class wine for over 30 years and firmly established themselves as an iconic Napa Valley estate. Interestingly the Barretts, owners and chief winemakers here for two generations, have always seen red winemaking as their true calling, but the legend of the 1973 Chardonnay will live on forever.

The charming Bo Barrett took the reins from his father Jim after learning his trade and continues his legacy with vigour and a lot of cheeky quips along the way. He calls himself one of the last `no voodoo` winemakers, explaining that nowadays in California there is a tendency to overthink the process. Instead, he keeps it simple, giving the estate the tagline "A family-owned company that follows the weather"! Bo`s laidback and jovial attitude belies the meticulous and conscientious man beneath the surface. However, shrouded in chilled out, Californian surfer dude charm as he is, he makes a good point - in a temperate climate like this, if you have the terroir, you let the vines do the work and interfere with them as little as possible.

The estate produces one non-Napa wine, to provide something a little different, the Potter Valley Riesling from Mendocino County. This is a beautiful new world expression of Riesling, displaying beautiful characters of tarte Tatin, vanilla, gooseberry fool and crumbly pastry. A touch of salinity and gentle hints of hazelnut lift the patisserie elements, and the grape`s trademark acidity knits everything together seamlessly. The Napa Chardonnay is one of the few Chardonnays from California that behaves like a Grand Cru Chablis, with aromas of pear tart, tropical passion fruit and lychee, along with a subtle and spicy oak character. The palate has juicy peach flavours and mouth-watering citrus notes of pink grapefruit and honey tangerine leading to a long and spicy finish. The Napa Cabernet Sauvignon is silky with aromas of ripe plum, black cherry, dried blackcurrant and rich cocoa, with mellow barrel tones. Sustainability is at the very heart of Chateau Montelena`s philosophy and they converted 100% to solar power in 2007. Each year we are also very lucky to receive very limited parcels of the Estate Cabernet Sauvignon and Calistoga Zinfandel, including some back vintages. These may be available on request, so please contact your sales representative for more details.
For availability, please contact the Customer Service Team at orders@bancroftwines.com or +44 (0)20 7232 5450