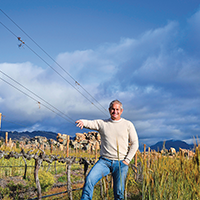 A legitimately unique and wildly remote terroir in South Africa, Cederberg climbs to over 1000 metres altitude above sea level; Cederberg Private Cellar is the only estate making wine here. Historically others have tried, and failed, to make viticulture work for them in this hostile and arid region, but only the Nieuwoudt family have stayed the course. The estate is surrounded by a very unique and dramatic landscape - one which Hannibal of Carthage once led his elephants over. To produce any wine at all here, let alone make some of South Africa`s most admired wines, is testimony to the passion and commitment of owner/winemaker David Nieuwoudt, the fifth generation Nieuwoudt running the farm, supported by winemaker Jean Nel.

Conservation is fundamental at the farm and Cederberg is a committed member of the Biodiversity and Wine Initiative. As a result of the farm`s remote location, the vines are by nature virtually organically grown. The wines have a unique purity of fruit and freshness which has become the Cederberg trademark. Disease is rarely a problem here, providing perfect fruit year on year. `I haven`t seen one rotten grape in 16 years` says David, who in 2017 and beyond is undertaking an ambitious replanting project with his viticulturalist Ooubus to ensure all vines are sited on the best soil possible.

As if it wasn`t already spectacularly trailblazing enough, Cederberg is one of only four South African estates to have Bukettraube under vine, a cross between Sylvaner and Trollinger. This wine has slowly built up quite a following as its exotic fruit and delicate character has proved popular with Asian influenced cuisine - only 77 hectares remain in the world, of which Cederberg has 6.5 hectares. Boasting South Africa`s highest Sauvignon Blanc vines, the result is a fruity wine with capsicum flavours and the trademark Cederberg flinty finish. The Chenin Blanc is one of the most successful examples in the Cape, and the single vineyard, barrel-fermented Five Generations Chenin Blanc is a step up in richness with an almost Puligny-like intensity, complexity and elegance.

As for the reds, the Shiraz (15 months in 95% French oak) is multilayered and rich with spiced fruit whilst the Cabernet Sauvignon (aged for 15 months in oak) combines luscious dark blackcurrant fruit with subtle mint and tobacco leaf undertones. High altitude cabernet vineyards that have a longer ripening period give rise to this as well as The Five Generations Cabernet Sauvignon (100% aged in new French oak for 18 months) - even more impressive with immense power and structure that allow it to age effortlessly.