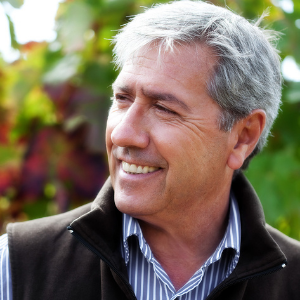 Bodegas Remírez De Ganuza
Founded in 1989 by Fernando Remírez de Ganuza, this Bodega is located in the village of Samaniego, in the foothills of the Sierra de Cantabria and in the heart of the Rioja Alavesa. Fernando`s family livelihood was made in charcuterie, and when he first declared his new ambition, they thought him mad for wanting to set up his own winery. He now owns 68 hectares of vineyards spread across more than 100 plots in the Rioja Alavesa, where the average vine age is 60 years.

Fernando`s quest for perfection begins in the vineyards where sorting is meticulous. Following the harvest, the grapes are chilled in a cold chamber for 24 hours and passed along a sorting table. Here his years of experience come to the fore. Fernando separates the "hombros" (shoulders) from the "puntas" (tips) because the "hombros" are richer in colour and tannins, making them much better suited for the reserve wines. Pressing for the Transnocho red takes place with a water bag that is placed into the tank at the end of fermentation once the free run juice has been drained. This avoids oxygenation of the tannins and results in better quality press wine. The technique is unique and has been patented. For the other reds, basket presses are used, but these are protected from oxygen and other contamination by wrapping the outside in polythene. This is a very slick operation where cleanliness and quality are paramount.

The Remírez de Ganuza Blanco is a barrel-fermented modern white that has received much praise from journalists and customers alike. A blend of 70% Viura, 20% Malvasía, 10% Garnacha Blanca & others, it spends 9 months on the lees in new French oak barrels. A spirit of innovation and a quest for quality above all else have cemented Remírez de Ganuza`s reputation as one of Rioja`s absolute best producers.
For availability, please contact the Customer Service Team at orders@bancroftwines.com or +44 (0)20 7232 5450